Screenshot of the month
---
A future section of our newsletter, any screenshot or glam you're proud of can be submitted and judged. One lucky individual will have their pride and joy displayed here and the previous month's winner will be below with the caption contest winner's submission under it.
For the rest of September through October, please send creepy or scary screenshots!
MogTV's Cribs, #1
---
Hello, kupo! It's the FC moogle Pukli Puck who may or may not be a figment of the reporter's imagination, here to show off a mognificent home I found! Tonight's target is plot 27, in the 11th ward of Shirogane. I will be your host in this segment as I wander and critique the unsuspecting member's dwelling. And without further ado, let us break-in, I mean begin, kupo!
---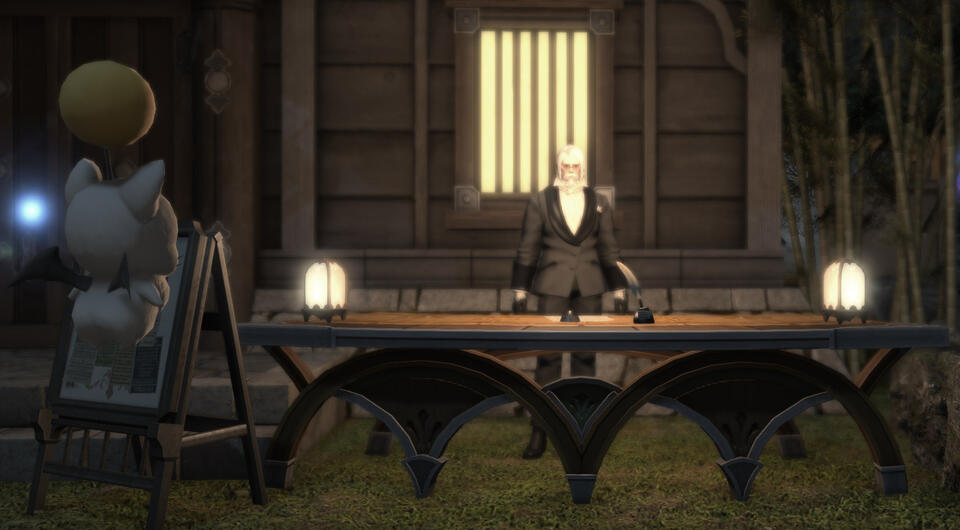 We are initially greeted by what looks to be a doorman, kupo. He's a little creepy and seems to be staring straight ahead... Is he even real? Let's just ignore him for now and take a look inside.
---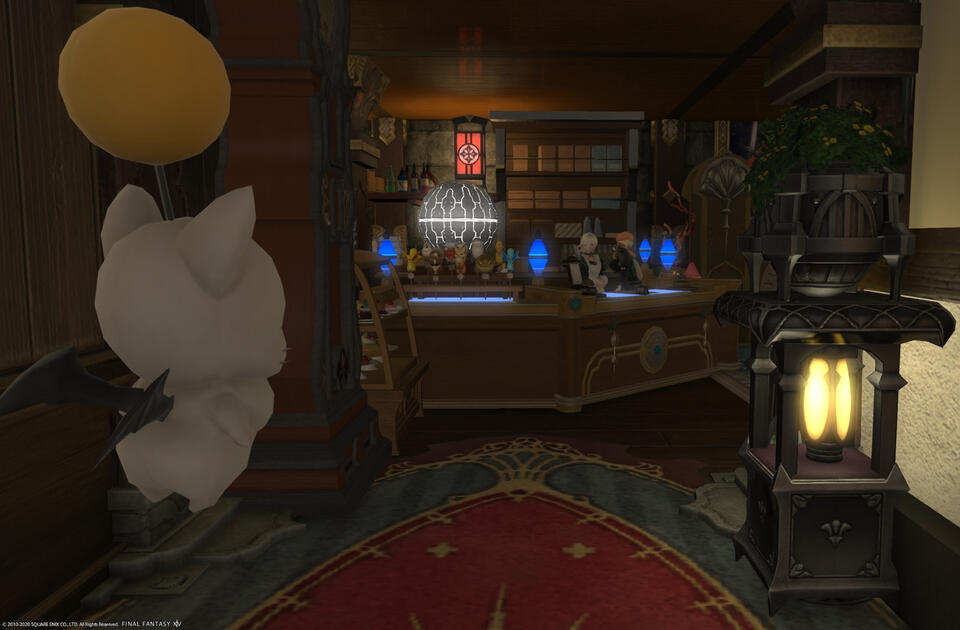 The main entrance, kupo! There is so much detail! The lighting is very dramatic. Some may think this cluttered, but that just tells me the designer has secrets around...
---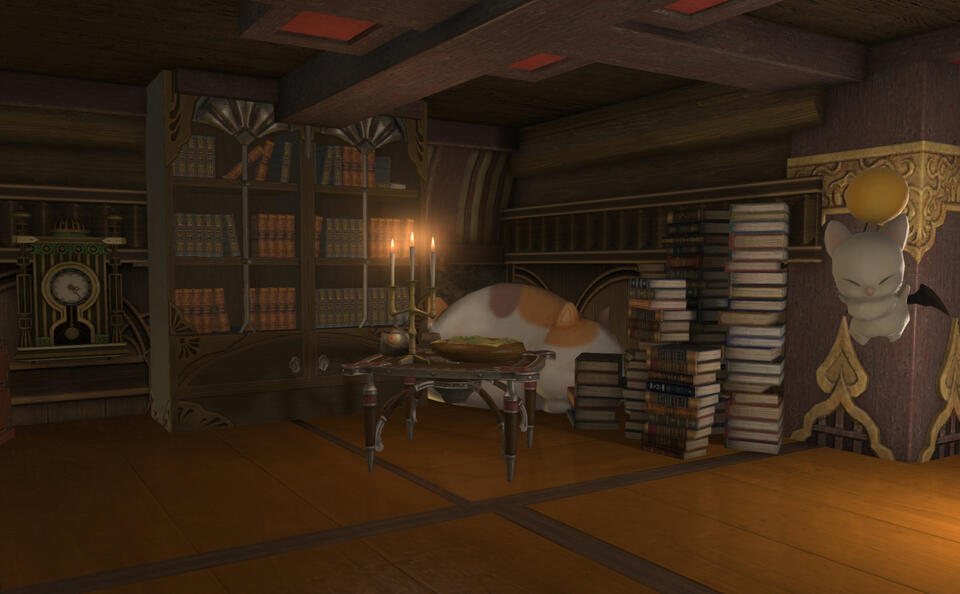 Our efforts were rewarded with this cute little nook, kupo! You never know what you'll find when looking through someone's house. Or even moving through their walls... Anyhow, let's make our way downstairs.
---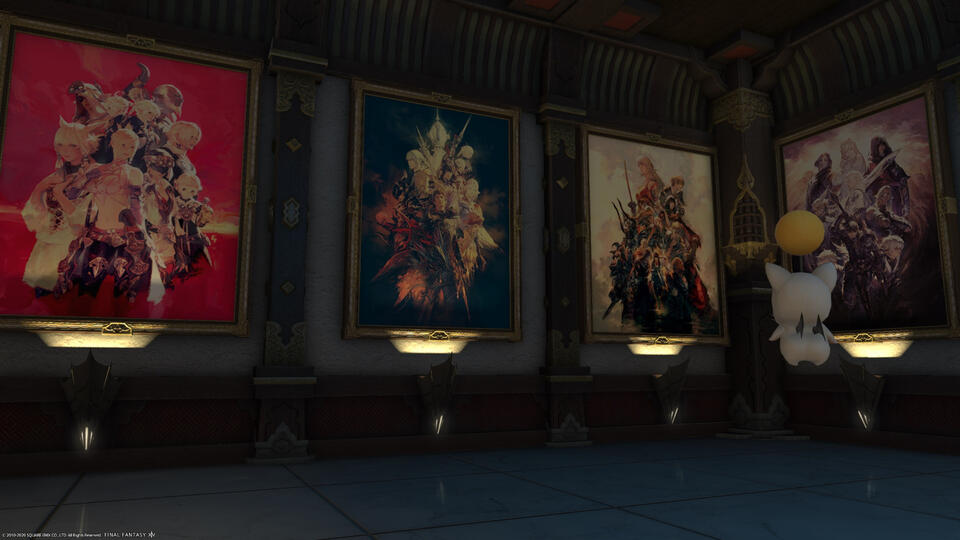 I'm impressed, kupo! There's a mog-sized art museum down here. I don't know who these models are, but I can't help but feel a little sad looking at some of these paintings, kupo.
---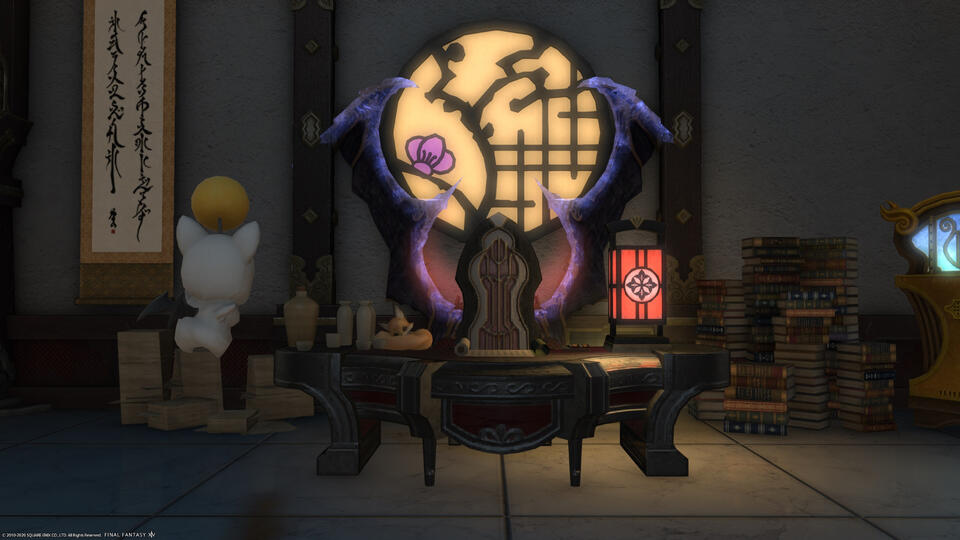 And what's behind the last door? A sublime office space! The dragon wings coming from the back of the chair are a nice touch, kupo. Oh?! Is that a fox? I think it's waking up! We've been had, kupo!

Well I best make my escape before I become fox food. Until next time, this is Pukli Puck, signing off. Tata kupo!~
September nitro boost winners
---
This period has 2 prizes and 2 winners!

Prize 1: White Devil & Red Baron Mounts
Winner: Dageth Crimsontalon

Prize 2: 60 Day FFXIV Time Card Code
Winner: Kaladin Stormblessed

All Discord server Nitro boosters are automatically entered into the contest and vote for the prizes. Winners are drawn once every 3 months.

Benefits of Nitro boost include but are not limited to: expanded list of emojis from all your servers, animated emoji, fancy purple icon. Once our server gets to 30 boosts, we'll unlock 384 kbps voice chat, 100MB upload limit, and a vanity URL for the Discord channel.

Boost your Discord server today!
Celestia's 5.3 Skybuilder Rankings
---
Here are the final results for where your fellow Celestials ended up:

Carpenter:
47 - Koko Krunch
86 - Itrenore Inbras

Blacksmith:
20 - Small Fire
41 - Aminore Vespertine
92 - Itrenore Inbras
99 - Kih'ra Nomu

Armorer:
20 - Clifftax Welblood
24 - Blessed Darkangel
32 - Raziel Davilles
59 - Itrenore Inbras

Goldsmith:
23 - Aumaan Prime
38 - Ashley Osteichthyes
56 - Calicoe Cat
74 - Itrenore Inbras

Leatherworker:
31 - Urbosa Vah'naboris
52 - Kitty Cat
68 - Itrenore Inbras

Weaver:
9 - Fox Elysium
28 - Kitiara Kittana
29 - Harliqyn Mave
83 - Saar Kazam
91 - Scura Darkangel

Alchemist:
11 - Quahlity Azzurance
63 - Aminore Vespertine
74 - Itrenore Inbras
78 - Candyce Cottontail
93 - Midi Ajihri

Culinarian:
8 - Sticky Buns
35 - Joran Dax
50 - Kitiara Kittana
57 - Harliqyn Mave
73 - Itrenore Inbras
87 - Kih'ra Nomu

Miner:
93 - Anton Stark

Botanist:
25 - Faey Baali
31 - Bunny King
83 - Anton Stark
95 - Aldaric Dluffy

Fisher:
61 - Tyo Atreus